** NEWS UPDATE**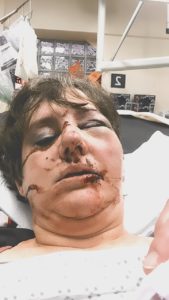 Where has Corinne been…? Read on about her life changing experience.

First and foremost, I am a born again Christian.  Secondly, I am a concert pianist and multi-instrumentalist – at least I was! I was born and educated in Zimbabwe where I also enjoyed music lessons from some very accomplished teachers.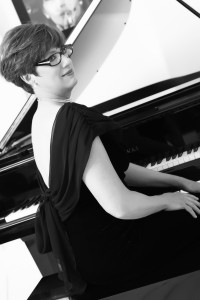 In my early 20's, God blessed me with a scholarship to the Royal Academy of Music in London where I studied the piano and oboe for four years.  I then lived and worked as a musician, examiner and teacher in London before being employed full time at a private boarding school for girls. I loved working at the school and was fulfilled in my vocation there. However, in the summer of 2014 I was dealt an enormous blow when I was made redundant after 11 years. What was God playing at? I was expecting this job to see me to retirement! Perhaps, but then God works in mysterious ways. 
Following the redundancy, I felt He was directing me back to my solo performing career and so I returned to hours of practice, devising programmes in a variety of styles for my five instruments: piano, oboe, cor anglais, soprano and tenor saxophone.   I trained to examine for another exam board, found an agent and began performing on cruises with Fred Olsen. I loved both the  performing and the travelling, meeting people and in particular, the Christian fellowship onboard the ships.  I loved my new life!
In December 2018, I was booked to perform on the Christmas cruise to the Caribbean which I was so looking forward to. I devised some exciting programmes with a Christmas theme of "Bells".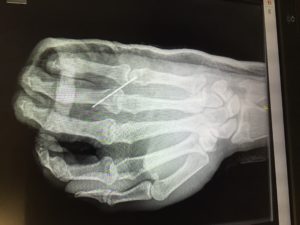 And then it happened: my "Damascus Road experience" when my world would fall apart. It was the evening of Friday 30th November 2018, when I was cycling home.  I'd been a serious cyclist since living in London, cycling Coast to Coast and taking part in many 90 to 100km sportives for charity. That evening in November, I'd been helping out at my church hall and was knocked off my bike by a young driver in a hurry to get home.  He'd made a hasty decision to take a short cut and turned left into a side road as I was crossing its intersection. I was knocked unconscious in the accident and taken by ambulance to Nottingham Queen's Medical Centre with a badly fractured hand, facial damage which resulted in a third nerve palsy and caused severe double vision, teeth through my lower lip, a sub-dural haemorrhage and bruises everywhere! These injuries occurred despite the helmet I was wearing and were as a result of having been flung across the car bonnet face first.  Since then I've had to wear a black eye patch over my right eye glass and the visual damage to my left eye from previously diagnosed glaucoma has left me partially sighted. I look more like a pirate than a pianist!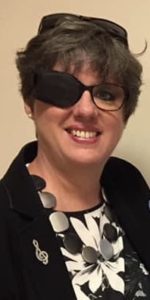 When one experiences life changing moments like this, one often asks where God could possibly have been that night? Why didn't He protect me and stop this disaster from striking? The Bible says in Jeremiah 29:11, "For I know the plans I have for you", declares the Lord, "plans to prosper you and not to harm you, plans to give you hope and a future."  This verse has been of enormous comfort to me, assuring me that God has me safely in the palms of His loving hands and, despite the current uncertainty, He has a master plan. It's a plan that will bring Him glory and give me hope and a future, despite what my injuries might currently dictate. The purpose for my life on earth is not for my personal gratification but for God's purpose to be fulfilled. 
Since the accident, my life has felt very bleak and dark at times with the overwhelming sense of bereavement over my lost career and meaningful purpose to my life. I am human after all! However, God is constantly showing me His hand in my situation. He is teaching me that He is present and living with me through this "storm".  He is faithful and will carry me through.
 The story of Job and how God allowed the devil to test his faith by taking everything from him, and the story of Joseph where God allowed him to seemingly be forgotten in prison have been a huge source of encouragement to me. God blessed Job a hundredfold and Joseph was promoted to Pharaoh's most senior official who would save Egypt from an extreme famine.  I've found these stories to be both inspirational and humbling.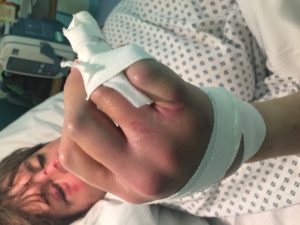 The UCB Word For Today booklets have been a source of great spiritual encouragement to me for many years but even more so now. In particular, God spoke to me in an extraordinary way through the reading in the Word For Today on that eventful 30th day in November 2018 entitled "What This Test is About" which quoted the verse from 1 Peter 1:7 which says, "These trials will show that your faith is genuine."  The notes went on to explain, "When the Bible speaks of 'a refiner's fire' we're inclined to think of the negative things God wants to remove from our character.  However, we also have inner strengths and gifts that need to be refined but we're not aware of them because a demand hasn't yet been placed on them."  The notes finished by stating, "God may be permitting the enemy to test you in order to reveal: 1) how much He cares for you; 2) how you'll act when your back is against the wall; 3) who you'll believe when God says, 'I will bring you out with a mighty hand…'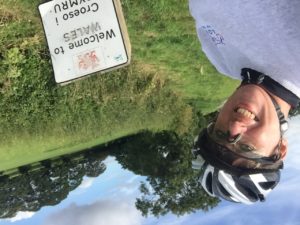 Throughout this ordeal, where my career has been wiped away with little hope of regaining the dexterity required for playing the piano to the same standard as previously, it is difficult to see a way forward.  God has remained close by and encouraged me through another daily reading from the Word for Today entitled "Sold Out to God" which highlighted Philippians 3:8-9 which says "All the things I once thought were so important are gone from my life….so that I could embrace Christ." It then looked at Abraham's altar. God didn't want the slain body of Isaac, He wanted to know if there was anything Abraham loved more than Him!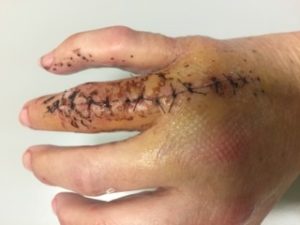 It is still early days in my recovery and the ongoing treatment I'm receiving from the wonderful NHS staff continues to be a huge blessing in this healing process. 
I'll end by quoting three comforting verses that have helped to sustain me:  Proverbs 3:5-6 "Trust in the Lord with all your heart and lean not on your own understanding; in all your ways acknowledge Him and He will direct your paths.  Philippians 4:19  "And my God will supply all your needs according to His riches in glory in Christ Jesus." and 2 Corinthians 12:9  "But He said to me, 'My grace is sufficient for you because my power is made perfect in weakness. Therefore I will boast all the more gladly about my weaknesses, so that Christ's power may rest on me.'"
Even though I have now lost my identity as a concert pianist, I realise that, most importantly, I am a child of God and as Timothy declared, "That is why I am suffering as I am. I know in Whom I believe and that He is able to guard what I have entrusted to Him until that day". [2 Timothy 1:12]  For this reason I am truly blessed!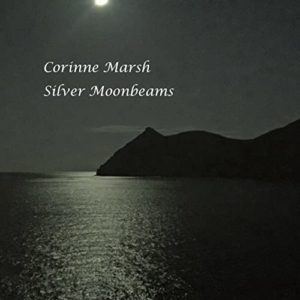 PS. Corinne's recording of beautiful music for the piano from the CD called "Silver Moonbeams" is available on all digital music platforms: Apple, Amazon, Google Play, Geezer, Spotify etc. Contact Corinne vis the "Contact" page on this website if you would like to order a hard copy of the CD. Price: £10 each. P&P free to UK addresses.  Enquire for postage charges to the rest of the world